PME stands for active engineering services
for the maintenance of technical installations and works worldwide from its base in Germany.

pme maurer GmbH has its origin in the TA Maurer, which provided more than 25 years ago new tools and innovative concepts based on thermographic analyzes for the inspection of technical systems for maintenance.

The IR check, which has set milestones in the diagnosis of electrical systems and is now an integral part of the maintenance of electrical systems, is one of the most important building blocks for proactive maintenance. By involving experts from the fields of electrical engineering and mechanical engineering, thermography and vibration measurement as well as other inspection technologies, a broad-based, well-founded knowledge is now available to clearly identify the condition of technical systems and to derive the necessary maintenance measures.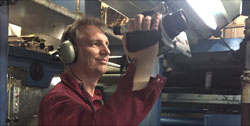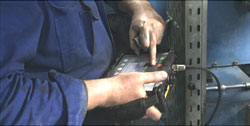 The IR-Check has established itself as a standardized procedure for optimizing the maintenance of electrical systems in corporations and is the basis for ensuring the availability in many industrial plants. The company concept of pme maurer GmbH speaks for long-term, trustworthy cooperation. Our philosophy is based on the simple principle of measuring, explaining and implementing.

We are at your service for decision making as well as for the implementation of a professional condition based maintenance. The measuring and control units used by us are pretested and selected according to fit your requirements profile. As independent consultants, we are not in charge of a manufacturer, rather we do appropriate analysis from an economic point of view.

Our customers attach great importance to our training courses, which we offer as workshops. This gives the user the opportunity to learn not only theoretical knowledge, but also to combine theory and practice and to apply it with the help of an experienced trainer. The advantages are obvious. Questions are immediately answered, the transparency between the theoretical approach and real functionality gives life in the readings. From the first measurement, the user has safety in the handling of his instrument and the diagnosis. As a remote operator, we carry out remote diagnostics of your readings.
In our capacity as an expert, we support you in the clarification of inconsistencies between manufacturers, suppliers and operators of technical installations. The acceptance of technical installations according to EN and VDE guidelines and regulations is also part of our area of ​​responsibility as well as the regular testing of technical installations with regard to UVV and the BetrSichV as well as hazard assessments. Our services are, of course, ISO 9001 compliant.

Our services for printing machines are requested worldwide. All leading machine manufacturers claim our independend services. In our ExpertsTeam network, smart professionals have joined forces to create a powerful network of experts.

Other industries include leading European automotive manufacturers, the chemical industry, as well as manufacturing companies and the food industry are our honored customers.