Technical press audit - to get comprehensive overview

We have been active in the printing industry for more than 25 years. In addition to a well-founded technical knowledge, we also focus our work on the necessity of maintaining cost-effectiveness.

The technical flawless state of a printing press is of fundamental importance for the success of a printing house. In addition to the considerable financial losses of a late or failed edition of a daily newspaper, the damage to one's image is also enormous and irreparable.

To meet your needs, we offer several modules for the preventive maintenance of printing presses. In addition to thermography, ultrasound and vibration measurement are also used, because each component has its own characteristics for identifying the condition.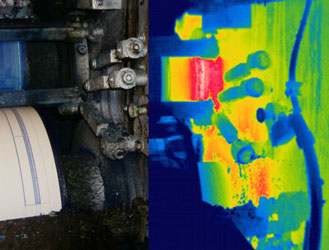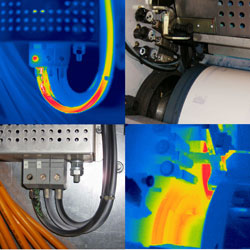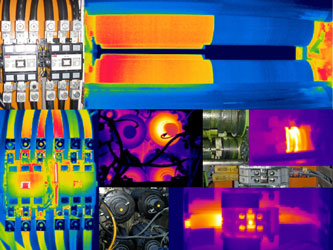 Thermography provides a reliable means of assessing the overall state of both electrical and mechanical assemblies. Several hundred measuring points exist on a printing machine. On the example of an 8-cylinder system, it is over 500 positions. Inspection of this number of components is not possible with conventional inspection methods.
Moreover, a state determination without intervention is with common measurements not possible. However, our Drive-Scan detects the technical condition during operation without affecting production. A clear advantage to securing plant availability.
In the field of electrics, there is no better method than the IR check, which produces reliable results about the technical condition.
Long before thermography came into its own in the field of technical diagnostics, vibration measurement technology was already an integral part of the condition analysis of mechanical systems. Their acceptance suffered for a long time under the multitude of necessary measurements and difficult interpretation, which is in the meantime simplified by the use of special software.
Depending on the design, a few hundred potential measuring points are located on a printing press.
Using the example of an 8-cylinder system, there are over 350 positions that can be considered.
If the number of components that are endangered and costly is reduced, just under 200 individual measurements are still required, which are necessary to record a system condition in detail. In the case of machines with shaft drives, couplings and bearing blocks must also be considered.
The evaluation takes place according to the rules of technology such as VDE and DIN / ISO. We also carry out a risk analysis and risk assessment. The evaluation takes part into operating-related properties such as production, running time and speed.
Several modules are assembled. They may be adjusted to the demands of the machine.
Modul A: IR check
Includes measurement and analysis of all electrical components
control room
machine control
electronics
Module B: Drive Scan
Includes the measurement and analysis of all mechanical components of
reelstands
infeed unit
printing unit
folding structure
olding unit
dryer and cooling unit
Module C: Power-Line (machines with shaft drive)
main drives
angle gear
clutches
Further drive shaft bearings by arrangement
Module D: Press-Bearings
plate cylinder
rubber cylinder
Traversing works
main drives